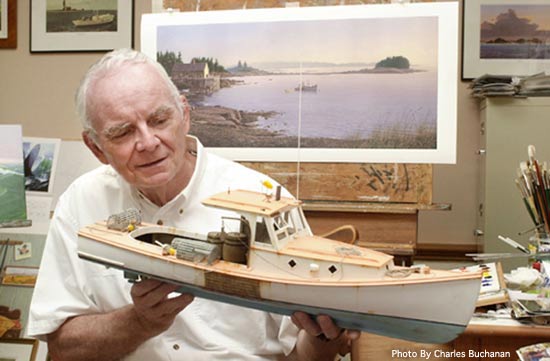 Robert B. Dance is nationally known as one of the premier nautical artists in the United States. He was born in Tokyo, Japan in 1934. At that time, Japan was already at war with Manchuria, and increasing tensions compelled his family to leave Japan just prior to the bombing of Pearl Harbor. He has been painting since the age of six, and is an award winning graduate of The Philadelphia Museum College of Art.
Since 1986, he has exhibited his work at the major exhibitions of The Maritime Gallery at Mystic Seaport, Connecticut. His painting, Hatteras Standing was shown in the Great Hall of the Smithsonian. In 1991, he was given a 20 year retrospective at The Southeastern Center for Contemporary Art. He had the opening exhibition at The North Carolina Maritime Museum in 1985 , and again in 1997. His drawing of a Spritsail Skiff is used as a logo for that museum. In 1988, his work was on the First National Park Stamp. In 1987, he won the cover and print competition at The Easton Waterfowl Festival. The North Carolina Watercolor Society has awarded his work first prize in three different exhibitions. The Hansley Gallery, Raleigh, North Carolina, included his work in their 2000 exhibition titled, 'North Carolina's 20th Century Masters' His work is in numerous corporate and private collections, including The North Carolina Museum of Art and The Mississippi Museum of Art. In 1996, one of his watercolors was used for the Boston Fish Expo poster.
Dance's work has appeared in numerous national and international magazines. He has written articles for American Artist magazine on five different occasions since 1976, including the November 2001 issue with an article titled, "Using Alkyds in Marine Paintings". He has written technical articles for the British magazine, The Artist, and, has tested pigments for the British firm of Winsor & Newton on several occasions. His work has appeared in WoodenBoat magazine and will appear in that publication again in the near future. Among the magazines that have featured his work are, Maine Boats & Harbors, National Fisherman, Seafood Business, Yankee, Chesapeake Bay Magazine, Southern World, Midwest Art, Today's Art, American Art Review, Art Voices South and Wildlife in North Carolina. He is listed in the books, Who's Who in American Art, 40 Watercolorists and How They Work, and the college textbook, Things Invisible To See. In 1996, one of his watercolors was used for the Boston Fish Expo poster, and the National Maritime Historical Society included one of his lobster boat alkyd paintings in their 2001 The Art of the Sea Calendar. Two of his lobster boat paintings will appear on the cover of the latest edition of Boatbuilding Down East by Royal Lowell.
The artist lives with his artist wife Coleman in Kinston, North Carolina, where his studio is also located, convenient to the NC coast where much of his artwork has been done and continues to be focused. He has three sons, Scott, Mark and Stuart who are all involved in some form of the arts.
A shy and quiet man, Robert Bartlett Dance is also the greatest father in the world.