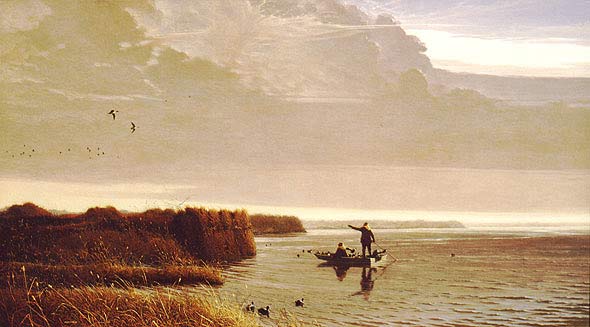 Many times the ducks arrive as the hunters are gathering their decoys. Perhaps the ducks are curious or possibly they understand the value of surprise. Previous to this activity they are nowhere to be seen and invisible as the hunters in the blind. Now the hunters and the hunted are visible but time has been called until tomorrow.
Late Pintails was one of Robert B. Dance's major paintings for the Gold Room of the Easton, Maryland Waterfowl festival and was featured in the January/February 1987 issue of Ducks Unlimited magazine.
Robert B. Dance has exibited his work in the Gold Room of the Easton Waterfowl Festival since 1982. During the 1986 juried competition he won the prestigious 1987 cover and print competition for the Waterfowl Festival. His work has appeared in Cheaspeake Bay Magazine, Ducks Unlimited, Virginia Wildlife and Wildlife in North Carolina.
SIGNED AND NUMBERED LIMITED EDITION REPRODUCTIONS AVAILABLE
THIS REPRODUCTION IS SHIPPED IN UPS TESTED HIGH QUALITY MAILING TUBES
Edition: 900
Size: 15.5 " X 28 "
Price: $180


CLICK THE ICON ABOVE TO ORDER ONLINE BY CREDIT CARD