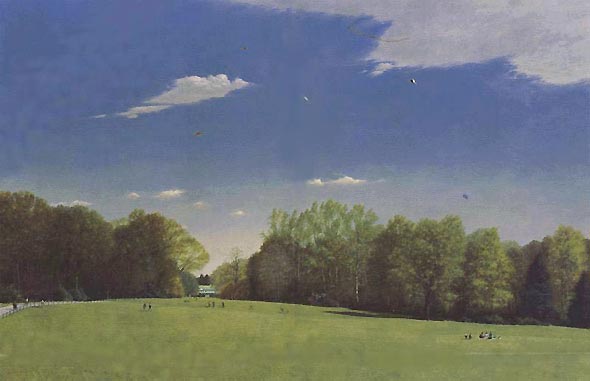 | Springtime at Reynolda | Alkyd |
| --- | --- |
Springtime brings out new growth on trees, new flowers and people who love to be outdoors in the warming transition of the season. One of the finest places to enjoy outdoor activity is the stately grounds of Reynolda House in Winston-Salem, North Carolina. The person who enjoys art will find one of the finest public collections of American art south of Washington, D.C. on display in the house.
Robert B. Dance is well known for his ability to capture light and space in landscape and seascape painting. He enjoys bicycling through Reynolda and has lectured and taught art classes there.
SIGNED AND NUMBERED LIMITED EDITION
REPRODUCTIONS AVAILABLE
THIS REPRODUCTION IS SHIPPED IN UPS TESTED HIGH QUALITY MAILING TUBES
Edition: 900
Size: 16.5 " X 25 "
Price: $145

CLICK THE ICON ABOVE TO ORDER ONLINE BY CREDIT CARD



© 2015 by Robert B. Dance. All Rights Reserved.
The text, photos & artwork used in this web site are protected under U.S. Copyright Law and may not be used in any form,
in whole or in part, without express written permission of Robert B. Dance.
Visit Robert B. Dance, Artist's profile on Pinterest.