Follow Robert B. Dance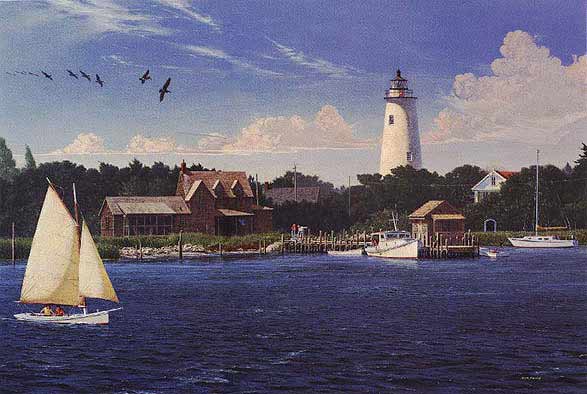 This painting of the harbor area of Ocracoke, North Carolina took six months to complete. It was commissioned in 1996. The painting required two trips to Ocracoke. One trip before a hurricane and another after a hurricane. Except for a few missing shingles, not much seemed damaged.
This type of painting requires much research. I would never start such a painting without knowing exactly what was going to be included. First, none of these boats were there. The small sailboat on the left ia a North Carolina Sharpie built to a plan of Charles McNeill's Sharpie, Idie. (Charles was the first director of the NC Maritime Museum and a good friend.) The boat at dock is the Sylvia II, a Core Sounder converted to a cabin boat. It is owned by Bob and Mary Simpson of Morehead City, NC. The sailboats on the right were put there to lead the eye up and into the sky. Houses and trees have been deleted or moved for composition. Pelicans, so prevalent in the area, have been added. My sons posed for the majority of the figures.....not the girl!

Ocracoke Lighthouse and Island
The Ocracoke lighthouse is the oldest operating lighthouse on the North Carolina coast. The structure was completed in 1823 at a cost of $11,359.35 including the light keeper's house. The light is sixty-five feet from ground level and the top of the light is offset from the main vertical structure.
Silver Lake is the harbor area of Ocracoke Island on the outer banks of the North Carolina coast. This harbor is the area where the ferry arrives and departs to Cedar Island and Swanquarter. The harbor is also the location of the Coast Guard Station, charter fishing boats and charter boat trips to Portsmouth Island and surrounding areas. The eastern part of the island has ferry service to and from Cape Hatteras.
Ocracoke has a rich history dating back to early America. The island's inlet has always been a major route access to the mainland. In 1770, Ocracoke was known as "Pilot Town" where men boarded vessels and safely navigated them past hidden sand bars to North Carolina ports. In 1778, it was a major supply route for General George Washington's army. The inlet was also of major importance during the Civil War and World War II. Located on Ocracoke, is the smallest plot of ground in the world controlled by the United Kingdom. It is the British cemetery with gravesites of four World War II British seamen torpedoed near this area by German submarines.
Ocracoke's most infamous character was Edward Teach, better known as Blackbeard the Pirate. On November 22, 1718, Lieutenant Robert Maynard and his men killed Blackbeard on Teach's Hole Channel which runs west of Silver Lake and the Lighthouse. The ferry crosses this channel on it's approach to Silver Lake.