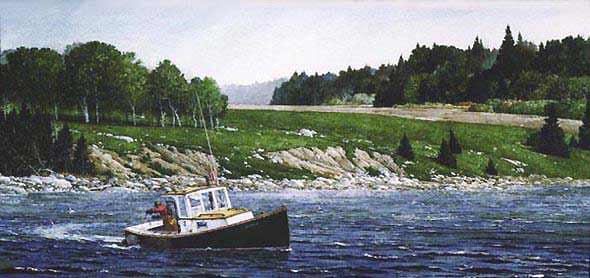 Roque Island is a beautiful island near Jonesport, Maine. On two different occasions I've gone out with lobstermen off of Roque Island where lobesterboats are busy tending their traps. The island and the lobstering off the island have been the subject of many of my paintings.
This boat is loosely based on a small lobesterboat named "Rascal" that I found at a dock in Jonesport. The boat is about thirty-two feet long with a very narrow beam or "Razor Case" indicating to me that the hull may be an older hull. The cabin on this boat looked recent and was not of pleasing design, so I changed it to the design seen in the painting. I suspect the original had a canvas spray hood forward of a simple cabin.
This watercolor was used as the 1996 Boston Fish Expo Poster at the World Trade Center. Editors of the magazine, National Fisherman, saw this watercolor at the Mystic Maritime Gallery in Mystic, Connecticut and asked if they could use it as a poster for the 1996 Boston Fish Exposition. The quality of a reproduction hinges on the quality of the transparency (photo) provided or the process of scanning the original. It is always helpful to have the original available when printing. Though the poster looked somewhat different than the original, it was quite good and far better than many reproductions of my work.